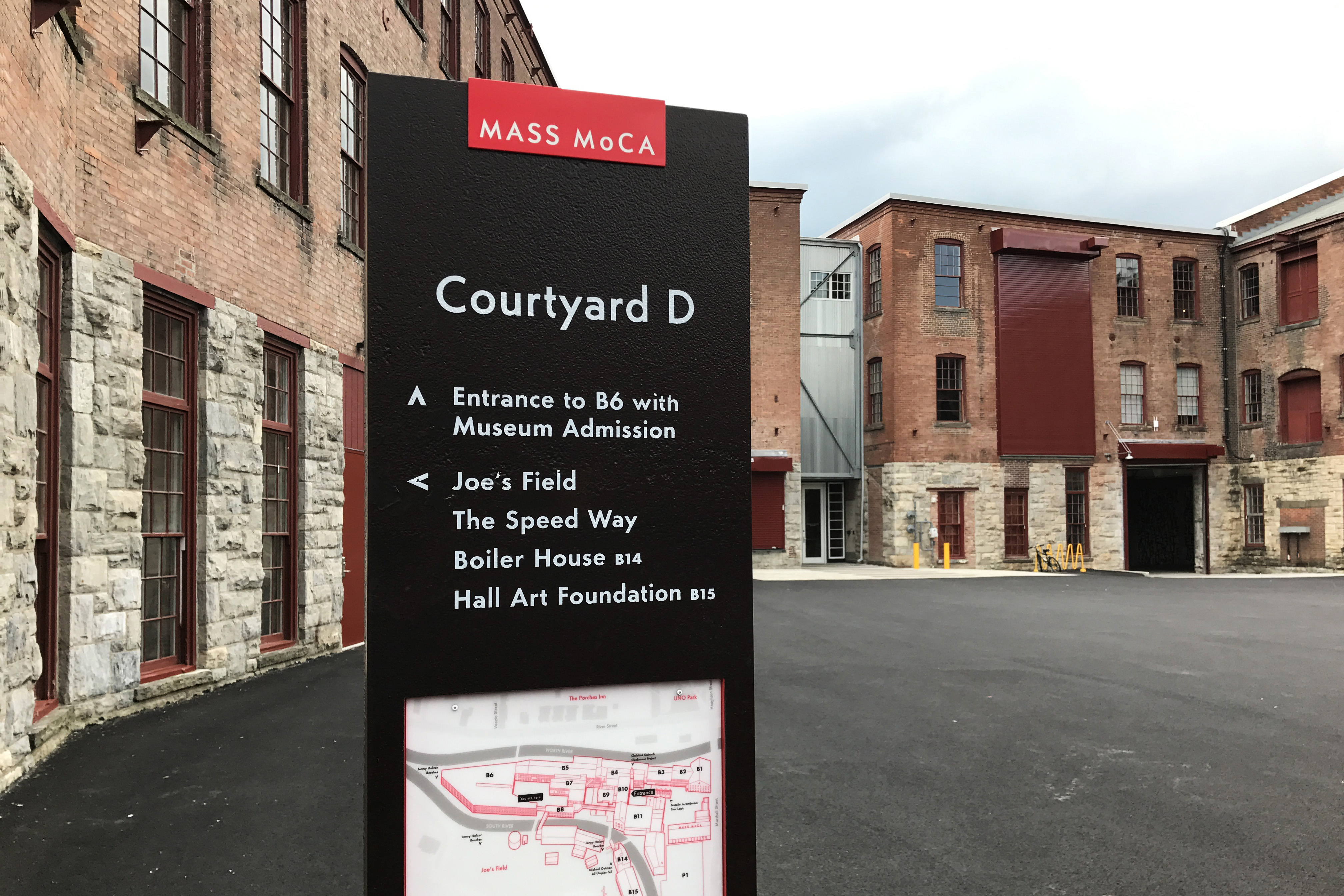 MASS MoCA is the largest contemporary art museum in the United States, housed on a vast seventeen-acre industrial campus. Commissioned by the museum's leadership, OverUnder developed a series of graphic elements that help the public navigate a complex, memorable place.
The project extends an already strong brand with new guides, customized typography, and a series of totems crafted out of two-inch-thick steel that remained from an earlier art installation. These panels create a strong identity that parallels the institution's merging of artworks with its industrial past.
Fabrication: DCL Boston, Autodesk Build Space, Mandy Johnson & James Jarzyniecki of OUTSIDE Gallery
A family of elements—from totems to blade signs, from visitor guides to accessible signage—was developed to ensure legibility across the campus.

Legacy signs were repurposed for consistency within the new wayfinding solution, and made more easily identifiable as MASS MoCA directions.

New entry signage focus' attention on the visitor arrival experience.

A three-dimensional model of the campus was fabricated in concrete to aid in navigation and legibility.

Totems were fabricated from two-inch thick steel remaining from an early installation at the museum. Each sign weighs approximately 1000 pounds.

Building numbers are cut out of blackened steel, and placed unobtrusively throughout the building.

Navigational signs are unobtrusive, and complement the material palette of the existing factory spaces.

We redesigned the visitor guide with custom isometric drawings for all buildings on the campus. Photography emphasizes location for museum guests.

Brand management is crucial to the MASS MoCA identity. We further customized Futura ND with a set of characters that increased comprehension for the museum.

We brought the visitor guide into the same aspect ratio of the gallery experience, making collecting an easy option.